1.Main Features:
● Continuous Current:40A
● Max. Switching Voltage:277VAC
● Rated Voltage:12VDC/24VDC
● Power Consumption:1.8W/3.0W
● Dielectric withstanding voltage of across open contact:4KVAC
● Cost Efficiency & Surge Protection
● Contact Form:2A/2B
● Compact Size:49*30*26.5mm
● Sealed Structure to Resist Harsh Environment
● Comply with UL Standard
● Typical Application: New Energy AC Slow Charging Piles
2.Technical Parameters:
Main Parameters

Weight

≈70g

Continuous Current

40A

Contact Form

2A/2B

Contact Material

AgSnO2

Max. Switching Voltage

277VAC

Initial Contact Resistance

10mΩ (at 20A)

Insulation Resistance

100MΩ, at 500VDC, 50%RH

Mechanical Endurance

5×105 ops

Electrical Endurance

6×103 ops

Electrical Endurance

10000 Cycles

Mechanical Endurance

100000 Cycles
Other Parameters

Pick-up & Release Time

30ms. typical/10ms. typical

Dielectric withstanding voltage:

Coil to Contact

4000VAC 1min

Across Open Contact

801:3000VAC 1min ;801A: 4000VAC 1min

Environment Temperature

Operation:-40℃~85℃ ;Storage:-40℃~125℃

Shock Resistance

20g, 11ms

Dielectric Strength

500Vrms, 1 min

Vibration

10-40Hz,DA1.27mm, 40-70Hz:5g, 70-100Hz:DA0.5mm,100-500Hz:5g
Coil Data

Type

Coil PN

Rated Voltage

(VDC)

Coil Resistance

(Ω)±10%

Power Consumption

(W)

Max Pick-up Voltage

(VDC)

Min Release Voltage

(VDC)

801

012

12

80

1.8

9

1

801

024

24

320




18

2

801A

012

12

48

3.0

9

1

801A

024

24

192




18

2
3.Dimention & Package
Dimension of product: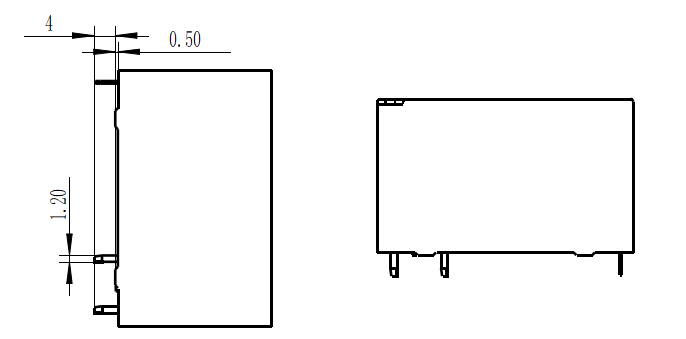 Packages:
Samples (small quantity): we default to use IVY box (Ref Size:25*20*7cm)
Shipments (large quantity): package can be self-defined based on our rich experience, box-carton-pallet.
We also adopt the skin packing to protect the pins and state of relays.
Marks on carton, or documents can be negotiated based on custom's requirements.
Fillers:For filler we will use foam, bubble material, high end PE form.
Others:
We may have zip code on the products if any quality accidents, we will call back and tracking the production.
Welcome to contact us if you have any feedback on our packages, once we adopted your suggestion we can offer free samples or discount.
4.About IVY METERING
Our History:
Our team focus on metering and switching since 1994.
IVY brand was born in 2010, HK IVY, Shanghai IVY, Tongxiang was established in 2010, 2015 & 2016.
IVY METERING Co., Ltd. is a Chinese leading designer and manufacturer of electrical components for energy management
and industrial field. With own factory located in Zhejiang and sales center in Shanghai for lean management.
Our product includes :
Switching series- magnetic latching relay, magnetic immune latching relay, power relay (EV relay)
Measuring components-current transformer, shunt resistor,
Measuring assembly-smart metering module and power sensor/
Others-communication/power supply modules, customizable integrated assembly etc.
Our Mission:
Focus on Energy Management,
Light up Better Life
5.Payment & Shipment
TT/ LC / PayPal / WeChat Pay / AliPay
More payment terms plz advise.
Please send us the bank memo after payments
In this case we can avoid mistakes on Account No.
If any changes on bank info we will call you even video
Plz don't believe any changes by emails
Samples shipment:
Express:DHL / UPS / TNT / FedEx / EMS / Aramex / ABX etc...
AirPost: Post-NL / Singapore Post / ePacket / CDEK /
Hongkong Post / DHL eCommerce / PTT etc...
Bulk Shipment: China Post etc...
Agent or forwarder are acceptable for us